Radio Drama
From SystersWiki
We hope this email finds you well*
[
edit
]


This audio snippet is part of the project "We hope this email finds you well* - a radio drama series".
---
Visit Varia website to find out more about the project:
http://varia.zone/we-hope-this-email.html
---
Participants: Amy, Angeliki, Artemis, Chris, Cristina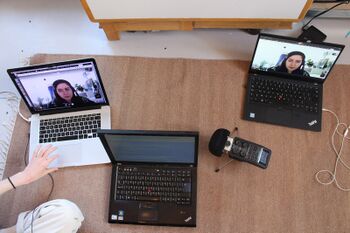 Photo by Angeliki Diakrousi
Voice of Conduct*
[
edit
]
Exercise 1 ---> Role Play
Codes of Conduct respond differently to issues of exclusions, harassment, hate speech, stalking, threats, bad jokes, insults, rude expressions. In this exercise, the participants read and perform unwanted behaviours that have been reported in tech conferences, the tech industry, hacker groups, tech forums, gaming platforms and mailing lists. They also respond to these different situations with sentences from various Codes of Conduct. The intention is to show the different approaches from communities to the same issues. What if the Codes of Conduct have a voice? How would they react to different behaviours?

Exercise 2 ---> Annotation
In this part, the participants experiment with different tones of voice and rhythm. The goal of this exercise is to embody the script with different modes of address — strict, welcoming, enthusiastic, neutral, aggressive, lethargic, slow, fast.
Exercise 3 ---> Amplification
Writing and managing Codes of Conduct are labour intensive routines. For this reason, it's common to use templates, borrow content, beware of others concerns, draw inspiration from different communities. In this exercise, the participants amplify lists of similar sentences by repeating, echoing, interrupting or reading on top of texts.